Project Nanhi Kali organised summer camps, with the belief in nurturing interests and talents of our Nanhi Kalis beyond just school text books. These were held at the Academic Support Centres (ASCs) in different locations at different times, in end April, May and early June.
Often the Nanhi Kalis come from marginalised, socially and economically backward communities. During summer vacations, they end up taking care of younger siblings, doing domestic chores and also at times experience violence at home. The summer camps at the ASCs help them to get out of their homes to realise their potential, sharpen their talents, build their confidence and enhance their social and problem solving skills.
Here are images and information from different locations on the gamut of activities that the Nanhi Kalis participated in. These ranged from reading comprehensions, analysing Math problems, paper craft, mask making, drawing, colouring, greeting card making, memory games, role play, talks on career guidance, health and hygiene, to name a few.
1. Vizag
648 Nanhi Kalis
30 ASCs
Activities:
Revision on Math and Language.
Art & Craft: Collection of stones and varieties of leaves.
Discussion on National leaders like Mahatma Gandhi, Jawaharlal Nehru, Jhansi ki Rani Lakshmi Bai.
Career guidance – The opportunities after Class 10.
Math related paper crafts activities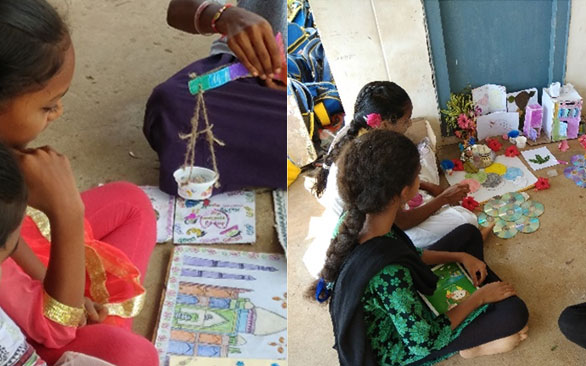 Despite extremely hot temperatures of 40- 45 degrees, few ASCs conducted the summer camp activities in their respective schools.
2. Gurgaon
500 Nanhi Kalis
19 ASCs
Activities:
Reading & writing pretest and worksheets.
Art & craft: Scenery making match sticks, rangoli designs.
Greeting card making by using green leaves.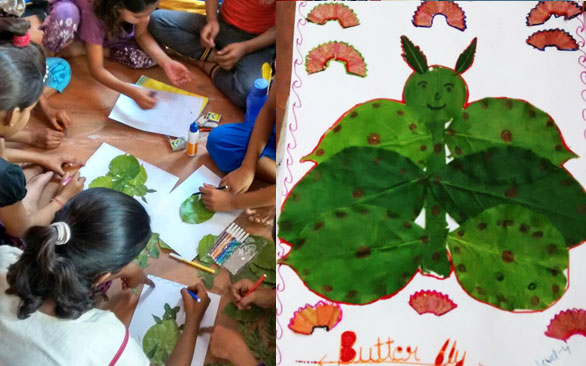 Scenery making with waste material,seeds of pulses, flower pots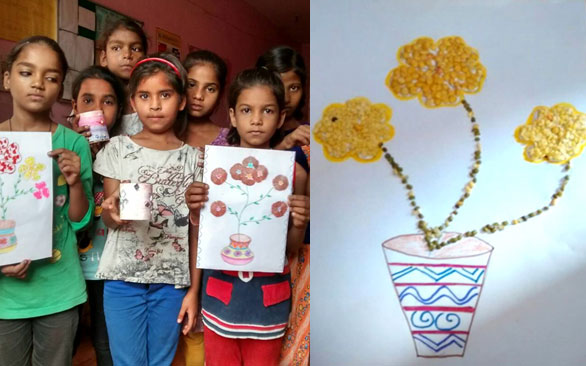 3. Barabanki
5093 Nanhi Kalis
252 ASCs
Activities:
Cultural: Rangoli, Dance, Songs.
Games: On Maths and Hindi.
Practice on difficult competencies of language and Math.
Art and Craft: Clay work, Drawing, Mehendi competition, Wall hanging, Card making, Flower making, Stitching, Pen stand from ice cream sticks.
Story telling, Role play, Essay writing, Story Writing.
Physical activities like P.T, Running Competition.
Session on Health and Hygiene.
Table Lamp making, Lord Ganesh portraits from chart papers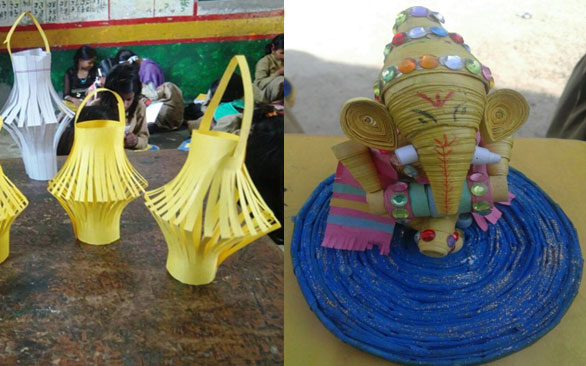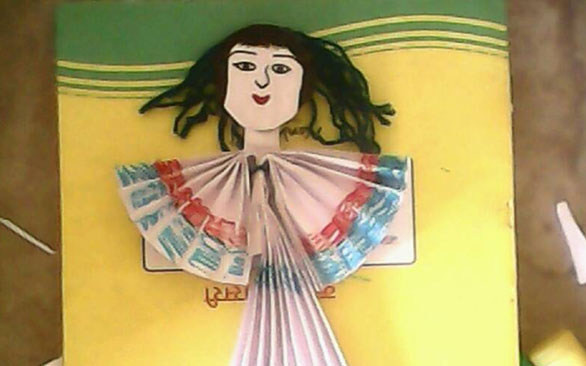 Mother's day celebration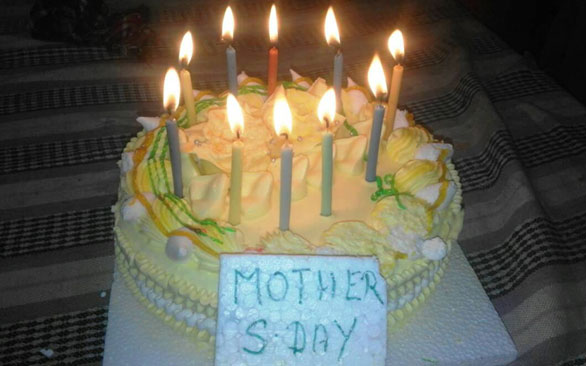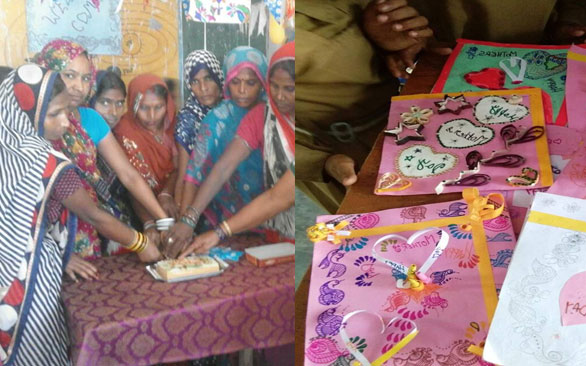 This Summer Camp was inaugurated by the Block Education Officers (BEOs) of Dewa and Suratganj Block
Some Quotes:
Nanhi Kali Vandana said "Didi hamko ye summer camp bahut hi accha lagaa aaj tak hamaare school wali Ma'am ne is tarah se kabhi kuch nahi karaya….."
Nanhi Kali Priyanshi said that "Hamko iss camp me bahut kuch seekhne ko mila, maine mitti se khilone banaye, kaagaj se kai cheeje banayi, Maths me sawaal lagana bhi seekha….main agli baar bhi summer camp men jarur aaungi…"
4. Chakan
3377 Nanhi Kalis
103 ASCs
Activities:
Cultural: Rangoli making and fancy dress competition.
Games: Memory Games, indoor & outdoor games.
Sessions on Hair styling, Yoga, Self-defense, Karate and Cybercrime.
Art & Craft: Bangle making, Perfume making, Artificial flower making, Collage, Sock puppets, Wall painting, Arranged a picnic at a botanical garden.
Objects made from wool, cotton, ice cream sticks, and waste material.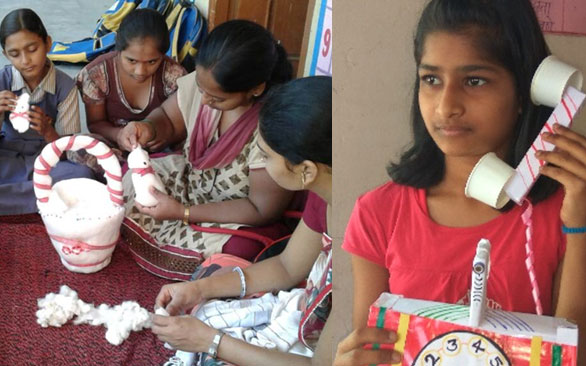 Crochet                              Painting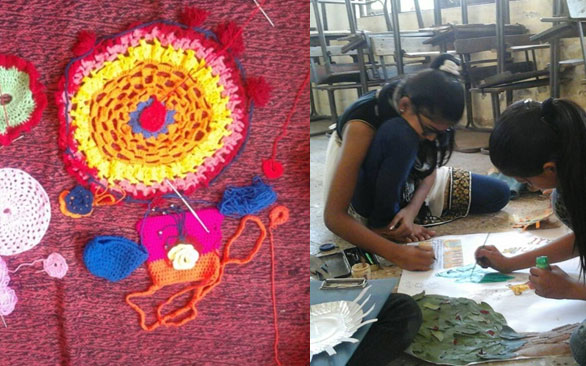 Card Making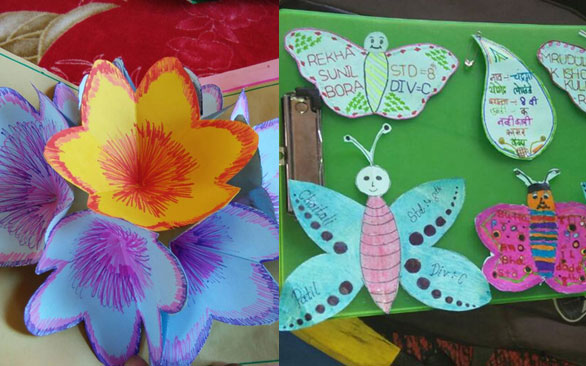 Our Nanhi Kalis were trained in self- defense by six constables sent by the District Commissioner of Police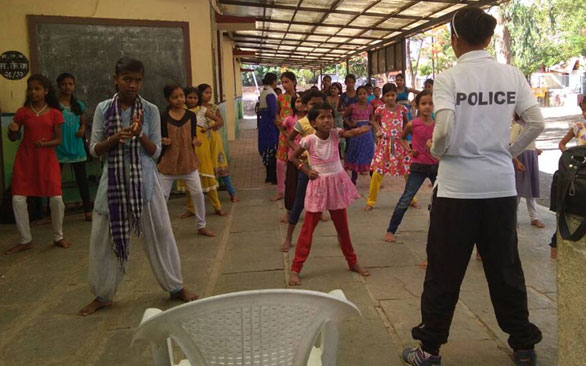 5. Delhi
2062 Nanhi Kalis
127 ASCs
Activities:
 Story Telling and Poem Recitation.
Story and Passage Comprehensions.
Practice on different competencies and concepts of Math.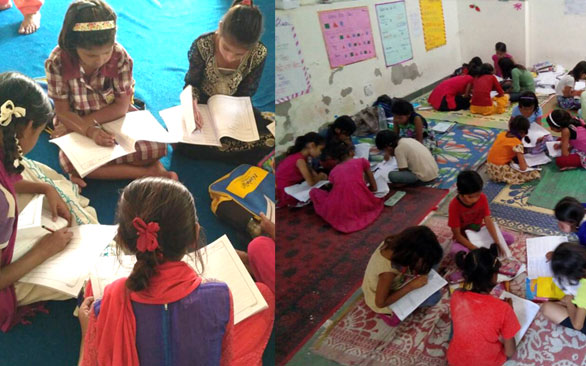 Some Quotes from our Nanhi Kalis:
"Main Summer camp mein kuch seekhne gayi thi aur vaakai mein maine khel khel mein bahut kuch seekha".
"Maine summer camp mein ek nahi, anek cheeze seekhi".
"Garmi ki hai chuttiya aayi, summer camp ki khushiya laayi."
"Nacho, gaao, khushi manao, summer camp mein padho aur padhao."
6. Noida
2089 Nanhi Kalis
103 ASCs
Activities:
Culture: Practicing Mehendi designs.
Improving learning levels through summer camp reading materials.
Art and Craft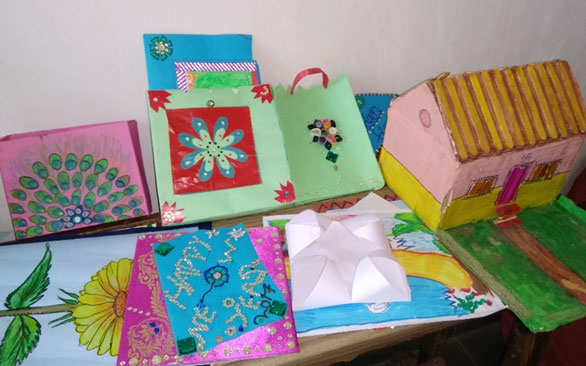 Making art pieces from waste materials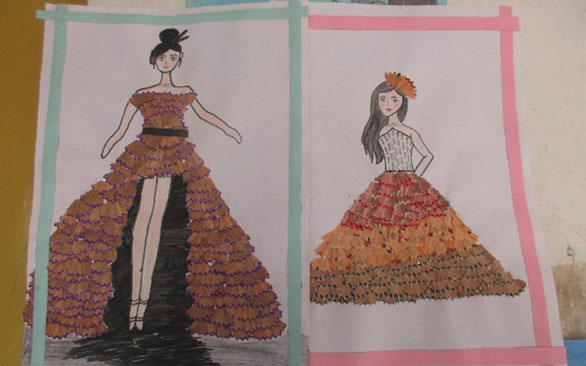 Practicing Rangoli and Mehendi designs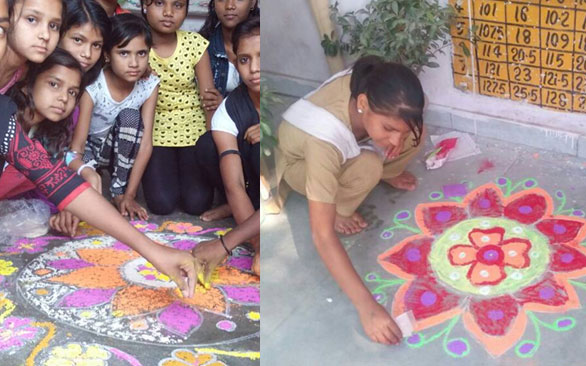 7. Mumbai
3429 Nanhi Kalis
133 ASCs
Activities:
Art & Craft: Mask making, and Card making.
Games: Memory game.
Reading comprehensions and Role play.
Paper craft activities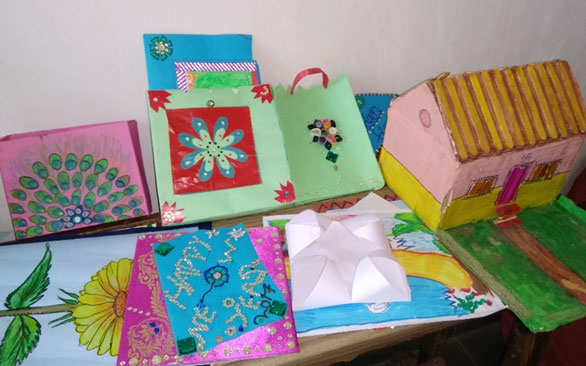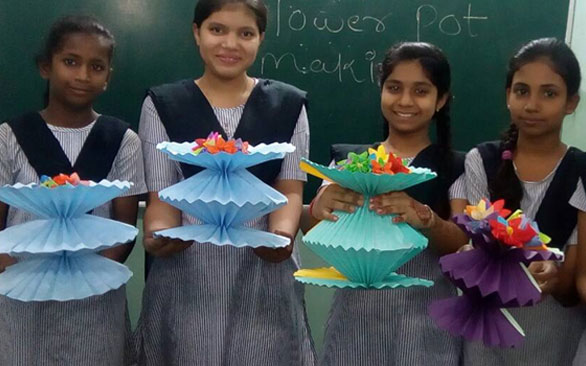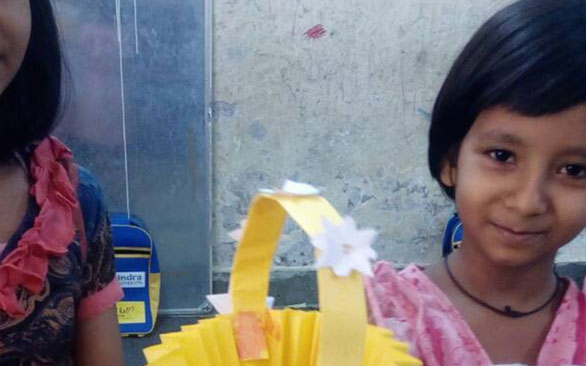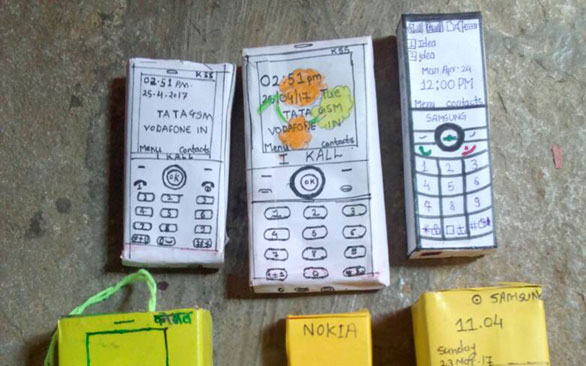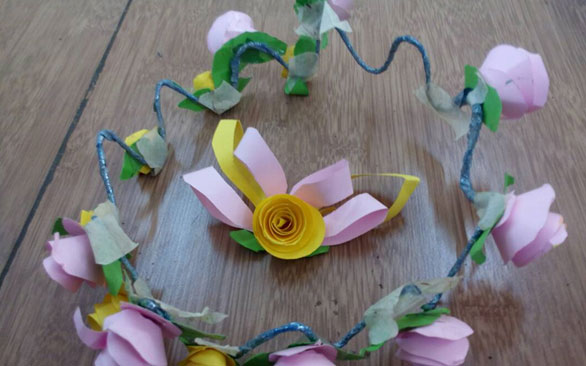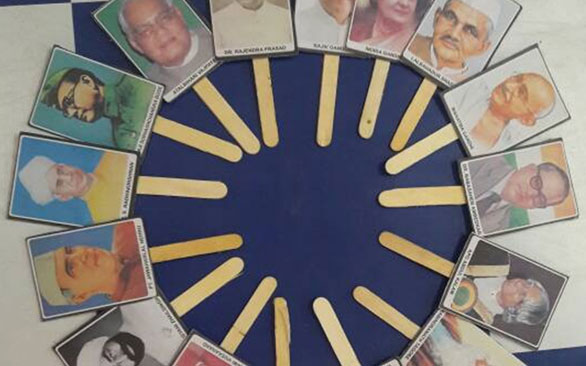 Drawing and Colouring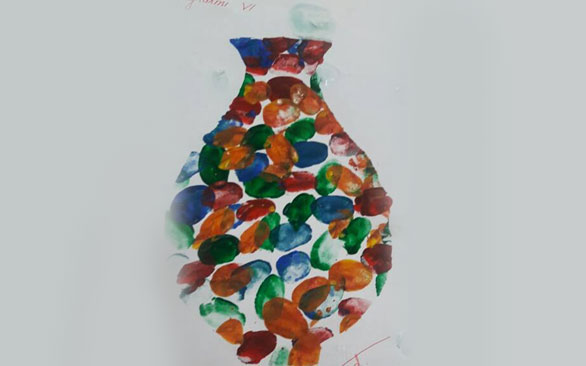 Practicing concepts of Math
Some Quotes:
Nanhi Kali Anam Abdul Rehman said "In Summer Camp we learn different activities and skills from each other."
Nanhi Kali Dipali Suresh Landge likes the PSI session which mainly focusses on child rights & self-defense.This will help her in her future life.
Nanhi Kali Geetanjali Ashok Rajbhar feels that "Summer camp helps us play, learn and enjoy with our Didi. She also enjoys playing with us."
Nanhi Kali Divya Suresh Mali thinks, "Summer Camp is a lot of fun and we have the most enjoyable moments. We learn so much through different activities."
Community Associate (CA) Geeta Bugade said "Summer Camp is a good platform for the Nanhi Kalis to share a good relationship with their CA. Nanhi Kalis express their emotions, happiness and feelings with us."