Actress Sonakshi Sinha attended 4th season of Proud Father for Daughters initiative, which supports Nanhi Kali: Girl Child Education, an NGO for Education of Girls in India on Saturday in Mumbai.
During an interaction with the media at the event, Sonakshi Sinha was asked whether today's women are coming forward for their rights. And, the pretty actress said: "Today people are talking about it. There are ways where help is available. I feel today girls are becoming stronger when they see other girls who stand up for their own rights and justice. That really encourages them."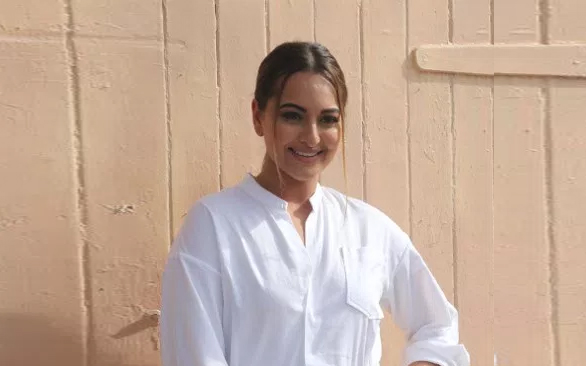 On the imposition of 12% GST on sanitary pads, Sonakshi said, "Sanitary napkins are a basic need of every women and I feel that really needs to be taken into consideration and I feel it should be definitely tax-free."
Talking about Nanhi Kali, Sonakshi said, "This cause is more special, because, unfortunately, today we live in such a place where there is gender discrimination. When girls are born, the family members force them to sit at home. They don't even send them to school. I feel 'Nanhi Kali' is great cause which promotes and supports little girls who has a desire to study but don't have the means to pursue their studies. It's a wonderful initiative. I, as a celebrity, am immensely happy to be small part of this initiative and I am looking forward to contribute towards this cause to best of my abilities".
Sonakshi, according to News Hepline, will be next seen with Sidharth Malhotra in the thriller movie 'Ittefaq', a remake of the Rajesh Khanna and Nanda starrer of the same name that released in 1969.
Besides, Sonakshi Sinha is all set to play central protagonist in 'Circus'. The film marks the directorial debut of popular choreographer Bosco Martis and will star Suniel Shetty as her father.
Source – BLive
Dated – August 07,2017