Project Nanhi Kali is an academic support programme for girls from the age of 5-15 years or till they've completed class 10. Over the years, the NanhiKalis who would pass out of school told us that they still required support by way of guidance for further studies, careers, life skills, and overall to navigate through their years of adolescence. We delved on this feedback and conducted a study by third party experts. This helped us come to the conclusion that supporting a girl till she is 15 is simply not enough. In fact, when we thought about it, age 16-21 years is probably one of the most crucial and difficult phase of a girl's life. At this juncture, girls dream bigger and seek to find ways to realise these dreams.
That's why, we decided to start Nanhi Kali Adolescent Centre which would focus on this age group and nurture and support girls during this critical phase of their life. The goal of these centres is to facilitate intellectual and socio-emotional development of girls. We aim to support adolescent girls to thrive and succeed through awareness and focused efforts. As a result, they will be equipped to make more informed and independent life choices to contribute fully to the family, the economy and society.
The Nanhi Kali Adolescent Centre imparts life skills education through a methodology that intelligently and sensitively uses art, drama, cinema, philosophy and literature. With the help of projects and roleplay, girls learn how to logically define and analyse situations in terms of actions and their consequences, and to hone the ability to find solutions to the challenges and problems they face.
Every centre includes components of training in English, computer skills and digital literacy, financial literacy, health and nutritional awareness, physical fitness and self-defense. These centres are safe, informal and unstructured spaces with a focus on helping girls develop confidence and interpersonal development.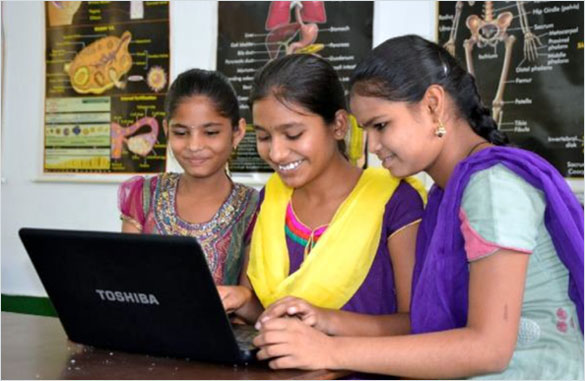 The Adolescent Centre Programme currently has over 84 centres spread across Hyderabad, Mumbai, Chakan, Gurgaon, Vizag, Araku Valley and Krishnagiri. Through this programme, we aim to impact 100,000 young women in different parts of India over the next 5 years empowering them to become employable and economically independent.