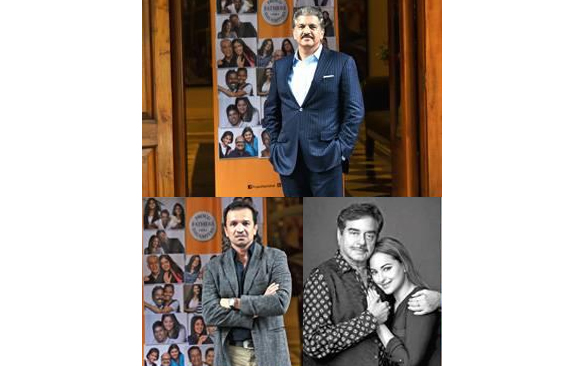 By: Murali K Menon
As his Nanhi Kali project enters its 21st year, Anand Mahindra talks about girl child education, gender parity and his two daughters
In an expansive, mostly bare hall at the Mahindra & Mahindra HQ, in Apollo Bunder, Anand Mahindra talks with a quiet, almost reticent, grace about Nanhi Kali, his around 20-yearold project. In fact, you get the feeling that, like most exemplary philanthropists, he would rather be not talking about it.
But, for once, his PR team is calling the shots, and our meeting has been occasioned by the annual announcement of a social-media friendly activity that will get off the ground in early August. Like he has done for the last four years, photographer Atul Kasbekar will bring together a bunch of acclaimed lensmen to capture fathers and daughters from across Mumbai. These include pairs from Bollywood and the corporate space, and it could also include you and your daughter if you register soon enough on the Nanhi Kali website. The idea is not original, but it has become extremely popular over the years, because it stands on the shoulders of the exemplary work done by Nanhi Kali.
Mahindra first thought of an NGO dedicated to girl child education as a student in the United States. "The idea came from there, but it took time to evolve. The US might be maligned for several reasons, but it is a very philanthropic society. People there donate at least five to 10 percent of their annual income, and they start young," says the 62-year-old chairman and managing director of the Mahindra Group, who is wearing a blue pinstripe suit and Venetian slip-ons. When he came back from the United States in the early 1980s, Mahindra discerned what he calls the first wave of yuppies. "I'm talking about people who started working in the finance sector. They were affluent, and I thought I could look at something that could help the inculcation of philanthropy among youngsters. Not necessarily big amounts, of course. And, back in the day, the one big problem everyone spoke about was population; it was a Malthusian nightmare, and the key to improving population rates was education of the girl child." The idea gestated in Mahindra's brain for well over a decade before finally taking concrete shape in 1996. Over the last 20 years, the NGO has helped educate over 3,10,000 girls, and currently supports over one lakh nanhi kalis across the country.
What's pretty glaring right at this moment, though, especially to this writer, is the lack of a single female photographer in a series that promotes girl child education. Surely, that is a redeemable oversight, I ask Kasbekar, who is a Richard Avedon fan. "We did try and get in touch which Sheena (Sippy), but she was busy. Frankly, the guys I'm working with (Colston Julian, Prasad Naik, Jaideep Oberoi and Suresh Natrajan) are the best in the business. Do you have anybody in mind?"
I proffer Ashima Narain's name, Kasbekar promises to get in touch with her, and then he tells me about the magic that takes place when fathers and daughters gather in a studio. "It's not just about actors and their daughters, or Sachin (Tendulkar) and Sara. It's very democratic. We've had 60-year-old ladies come to us with their 85-year-old fathers. It's very touching," says Kasbekar, who decided to do his bit for the world around him after the Nirbhaya gang-rape case.
His PR team has indicated that Mahindra would mostly stick to talking about his NGO, but my coffee cup is half-full, and besides, there is a strong connection between girl child education and gender diversity at the workplace, and even, in a way, with women in leadership roles. The last bit is extremely interesting in this case, because neither of Mahindra's two daughters work for the group, and he was groomed to take over the group by his uncle Keshub, who had three daughters.
"Was I groomed to take over?" Mahindra smiles. "I studied film-making, and my father thought I'd die a penurious filmmaker. But, it panned out differently. My daughters, of course, they were simply not interested in the business."
Mahindra, though, concedes that most Indian companies still have some way to go before achieving gender equality, but he says he keeps reading about things that make him hopeful. "The glass ceiling has to be cracked, but I'm enthused by certain things. At Swaraj Mahindra (in Mohali), there are about 35 women working on the shop floor, and I quite agree with the manager there who said that you have to create an eco-system that welcomes more and more women to the workplace." (According to a survey released by an executive search firm in March this year, while seven per cent of women are listed as board members in listed companies in India, about 50 per cent of them are family members of the owners. M & M Ltd has one women independent director, Dr Vishakha Desai, on its board.)
He also finds the whole argument about finding women for leadership roles specious. "When you've got women at the helm, you start to miraculously find other women. It's same with Mahindra Lifespaces, which is headed by Anita Arjundas. She never has a problem finding great people to work with her."
And here's a heads-up just in case you run into him someday: never ask him if there is a difference between male and female leaders. "I'm waiting for that day when it becomes politically incorrect to ask that question. It shows that you still have some kind of a bias. It's a manifestation of the patriarchy that something like Nanhi Kali has been fighting against."
Does he think that patriarchal attitudes have consolidated in India since 2014? "I don't think so, and I don't want to be drawn into answering that either. But come over to my office someday, and we will have a chat." That should be something to look forward to.
Source – Pune Mirror
Dated – July 23,2017