Nestle India has brought about a change in packaging of three of their most iconic brands, Maggi, Nescafe and KitKat to support girl child education in association with Nanhi Kali, one of the largest NGOs imparting education to underprivileged girl children across India.
In an attempt to spread awareness for this critical issue of girl child education in India, Nestle has changed packaging of 100 million packs available on shelves by the end of September.
The initiative was conceptualized and facilitated by Famous Innovations.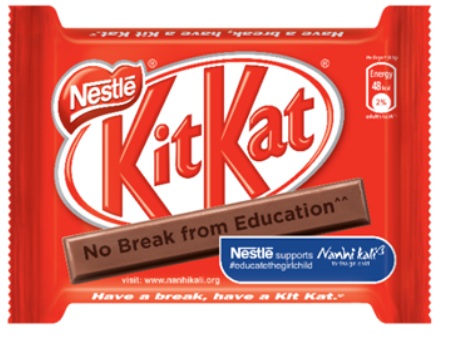 In an innovative approach and for the first time in India for any FMCG brand, Maggi, Nescafe and KitKat will give up their most iconic and recognized brand properties to support the cause of educating the girl child. Maggi has changed its tag line from "2 minute noodles" to "2 minutes for education". KitKat has changed the visual of the finger snap to one without the break with the line "No break from education" and NESCAFE changed the tagline "It all starts with a NESCAFE" to "It all starts with education". This has been further reinforced with a blue band which carries more information on the association with the URL of Nanhi Kali.
Speaking on the partnership Suresh Narayanan, Chairman and Managing Director, Nestle India said, "Brands are built with purpose and exist by earning the love and trust of consumers over time. Each time a consumer picks a pack off the shelf, the visual properties of the brand serve as symbols of the promise the brand has made to the consumers. These are invaluable assets, protected, cherished and treasured by organizations. We are changing the packaging of three of our most iconic brands to sensitize and draw attention to the crucial need for society & citizens to embrace our collective responsibility in ensuring that girls are allowed, given access to and nurtured with the power of education. Girls with access to education not only improve their own lives but also bring positive changes to their families, communities and economies. This is our belief and conviction as Nestle India and our humble way of making a small yet deeply felt contribution to a cause that is important and vital to Indian society."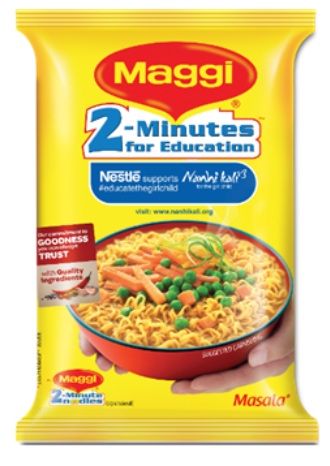 Anand Mahindra, Chairman, Mahindra Group, added, "This is a path-breaking and innovative partnership between Neste India and a non-profit organisation, both leaders in their respective field. We believe that supporting girl's education is a national priority and will have a far reaching positive impact on society. I am sure the new packaging of MAGGI, NESCAFE and KITKAT carrying the message to #EducateTheGirlChild will have the desired impact of helping Nanhi Kali put a million girls in school. I am immensely grateful to Nestle for their support to Nanhi Kali."
Raj Kamble, Founder and CCO, Famous Innovations, commented, "We were thinking of ways to increase corporate engagement for Project Nanhi Kali and we found ourselves wondering – what can corporate brands contribute with, other than just money? "Taglines" was the simplest, yet the most daring of answers. The one asset that any brands holds dearest to its heart and closest to its name. We salute Nestle India and Project Nanhi Kali for this bold step towards educating girls in India, a cause that we all know needs urgent attention."
Source – Adage India
Dated   – September 26,2016