| | | |
| --- | --- | --- |
| | | Newsletter - October 2015 |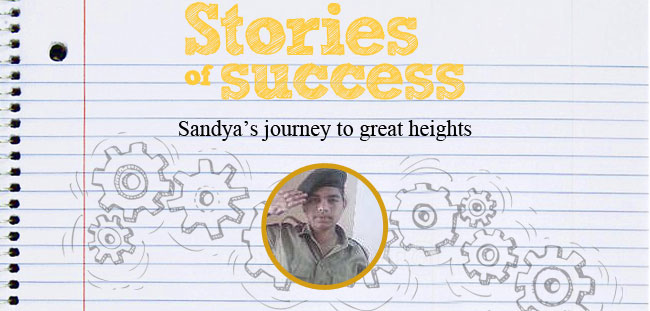 The story of Sandya Priyanka is an inspiring one. An alumnus of Project Nanhi Kali, Sandya currently works as an Assistant Engineer (Civil Sector) in the Municipal Corporation. She comes from a middle class family and lives with her mother and sister. Sandya lost her father in 2012, and since then her mother Rukmini has been supporting the family solely with the income she earns from the pan shop that she manages. Sandya became a Nanhi Kali in 2006 and was with the project for three years. She was a studious child and attended her classes regularly. Along with this she always made time to help her mother in the pan shop after school hours and used all the free time she got to concentrate on her academics. She won the Best Student Award in class IX and in class X she secured an impressive score of 503 which got her selected for the C M R Pratibha Award. Her diligence and hard work enabled her to secure admission in the Nujiveedu Campus for IIIT (B Tech Civil Branch).

A girl with immense potential and grit, Sandya always dreamed of becoming an engineer, and she is extremely grateful to Project Nanhi Kali for helping her achieve her goal. Her next goal in life is to clear the civil service examinations and she has now begun her preparations to become an IAS officer.

Joy of Giving Week
2nd October to 8th October is celebrated as Joy of Giving week.
We would like to thank all our supporters who helped contribute to
the cause of girl child education in their own way during this week.


Turner International India Pvt. Ltd., the broadcasting mogul, conducted an event for Joy of Giving Week where they distributed India and World Atlas books to 125 Nanhi Kalis in Dattapada Marathi & Hindi School in Mumbai. The girls were extremely grateful and excited to be a part of this event. The representatives of Turner International were welcomed by the Nanhi Kalis with flowers and a welcome song which was followed by a lively interactive session with the Nanhi Kalis on topics related to hygiene and cleanliness. Later, the visitors were explained the role and importance of education and empowerment of the girl child.

One of our other corporate supporters, Knight Frank (India) Pvt. Ltd, the leading real estate consultancy, organised a fund raising event across their offices in India. A fun-filled pot luck was held by all the teams to show their support for Project Nanhi Kali. The 'Day of Giving' event was supported by the Knight Frank employees whose contributions enabled us to support over 60 underprivileged girls from the tribal area of Sheopur in Madhya Pradesh.

On behalf of over 100,000 Nanhi Kalis and our entire team,
we would like to say a big thank you to
Turner International India Pvt. Ltd. and
Knight Frank (India) Pvt. Ltd for their immense support.
| | | |
| --- | --- | --- |
| | With your support, we can put #milliongirlsinschool | |