Grateful Thanks to Gartner Global Solutions
for their support to Project Nanhi Kali.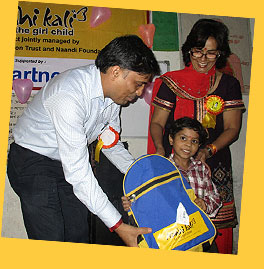 The excitement of Nanhi Kalis in New Delhi touched new heights on the 9th of November 2015 when representatives from the Gartner Global Solutions, one of the leading IT research and advisory companies, and a supporter of Project Nanhi Kali, presented the girls with new material kits.
The Nanhi Kalis, their mothers, community activists, members of MAA Samiti and the Nanhi Kali Programme staff were all glad to meet their supporters. The girls had organized a vibrant cultural programme, with a group song, a yoga session, Gidda and various other dances in honour of the guests.
Uber drives towards a better future for Nanhi Kalis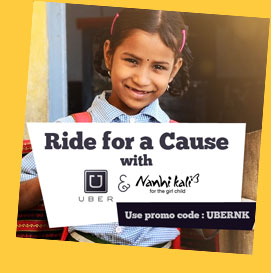 UBER Technologies, partnered with Nanhi Kali for a week-long campaign to raise awareness on the issue of girls' education which was promoted in major Indian cities and culminated on 14th November - Children's day. During the campaign week- 7th to 14th November, the UBER passengers were asked to enter the code UBERNK in their mobile app which would ensure a donation of Rs. 10 per ride to Project Nanhi Kali.
The campaign helped reach millions of riders across the cities of Pune, Delhi, Mumbai and Bangalore raising awareness about the issue of girl child education and Project Nanhi Kali.
We thank UBER for their support!
Samsonite India adds to the festivities for Nanhi Kalis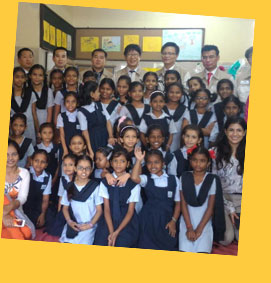 In support of the education of a girl child, Samsonite India one the world's largest designers and distributors in the luggage industry, has launched a two month campaign between the months of October and December. Through nearly 100 of its company-owned stores across India, a percentage of the sales from certain products are being contributed towards education of girl children through the Nanhi Kali programme.